Built in 2022…this cabin with its big yard and the mountain behind it will often be filled with Bighorn sheep and their babies because this property butts up to the area where the ewes have their babies every spring. The timber framed porch with comfortable wrap around sofa and dining set, weber grill and butcher block food prep area are the perfect complement to the indoor living space.
The small kitchen has a glass top range, refrigerator, and microwave…and a retro-look. The custom made kitchen may be small, but it's nicely equipped with just about everything you could need. With beautiful open shelving above, and blue pine cabinets below it's a stunning space.
The living room, just off the kitchen area, has 2 chairs with a shared ottoman, a comfortable rocker – and a beautiful window seat that looks out to the aspen grove and mountains. In the shared kitchen/living room space is a beautiful entertainment center with flat screen TV and satellite TV service.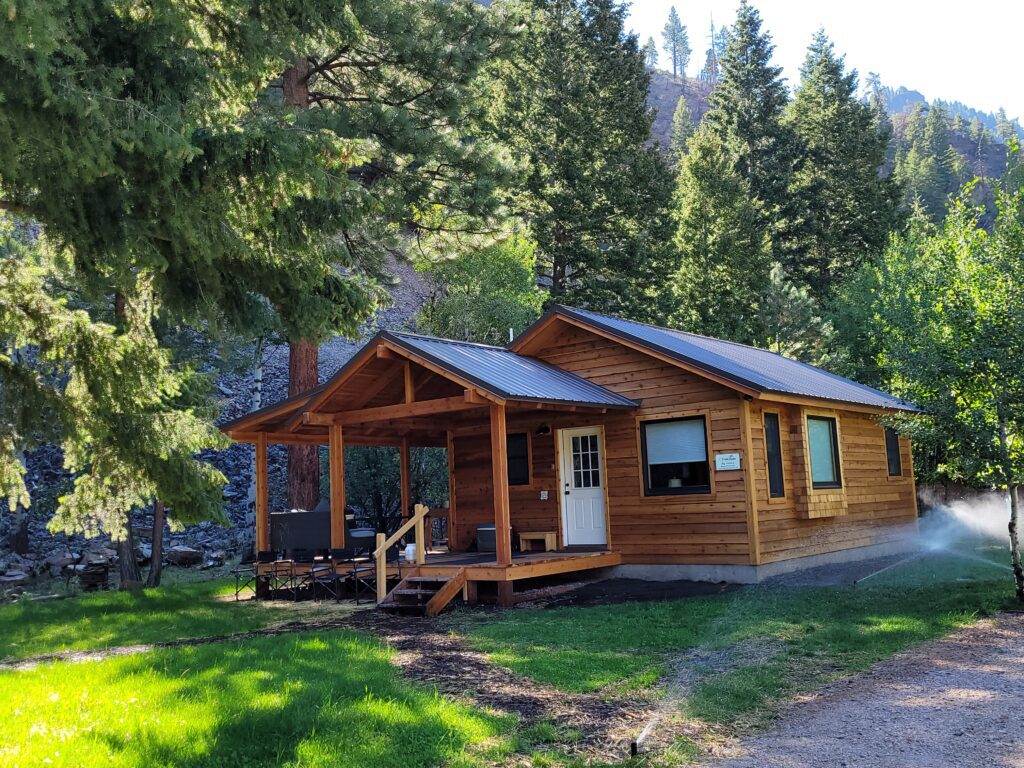 Notice the reclaimed timbers and barn board accents…all lovingly crafted into new life. The bathroom is a piece of art with a vanity made from salvaged barn-wood that we found locally. The vanity sink is of hammered copper, and the beam that goes through the middle of the ceiling looks solid, made to look that way by Joe's gifted hands. All this complements the blue pine walls, and the beautiful view just outside the window that looks at the mountain.
The 2 bedrooms are comfortably appointed with beautiful quilts and bedding, on nice firm mattresses – and a ceiling fan in each, just above the bed for those summer nights when you want to move the cool mountain air coming in through the open windows.
This cabin is one of two on the property – available to rent together as a perfect option for those who want to stay in close proximity to one another, or individually with plenty of privacy for each.
Maximum 3 adults, or 2 adults & 2 children
Non Smoking
NO PETS – BIGHORN SHEEP BIRTHING AREA
25% early season discount (4 night minimum stay required) available (April and May – not including Memorial Day Week-end)