Quigley
Brewster Cabin
Historic Cabins on Rock Creek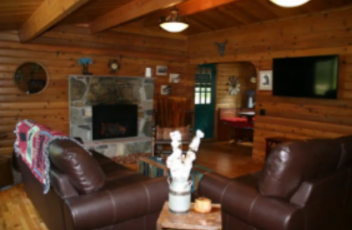 Within the span of less than one short year, thirty acres on Rock Creek turned into a bustling gold rush town and then fizzled into nothing. During 1896, Quigley was a thriving metropolis with a population of 2,000 one day, and a ghost town the next. This amazing property is the last remnant of the goldrush town of Quigley, 1896-1897.
Quigley Cabin started out life as a Chinese Laundry; in fact, the door where the miners would enter is still visible from the inside of one of the bedrooms. At some point a couple bunkhouses and a smoke house from another ranch were moved onto the property, making a quaint 'ghost town'. One of the bunkhouses has been modernized and is also available for rent. In 2019, the owners of the Quigley properties, purchased the adjoining property to the South (which has the 3 bedroom Brewster Creek Cabin) and is easily accessed by a footbridge over Brewster Creek – making this a perfect location for larger groups needing multiple cabins in close proximity to one another.
This unique property is gorgeous. Trout Unlimited restored the lower portion of Brewster Creek through the Quigley property in 2018, making excellent cutthroat trout habitat. Additionally, there is a small pond that is fed by Brewster Creek which offers fun opportunities for kids to see if they can outsmart the resident trout.
Brewster Cabin was refurbished in 2019 after siting frozen in time for over 30 years – the former owners locked the door and seemingly never returned. Everything was amazingly intact in spite of sitting for so long, allowing the main focus instead of repair, to be update – and they did a wonderful job. They added on a bath to the master bedroom, updated the kitchen, enlarged the original bath, added on a covered patio and porch to the front, installed a gas insert into the fireplace and beautifully furnished and decorated the 1960's Lindal cedar home throughout.
The views are AMAZING! No matter which direction you look you'll be struck by the fabulous setting the Brewster Cabin is built on – in addition to it's close proximity to the stream. This 3 bedroom, 2 bath home is sure to impress.
Maximum 3-6 (1 king bed, 2 queen beds)
Non Smoking
Pets welcome with $100 damage deposit and $20 pet fee
25% early season (April and May) discount available
NOTE:
Minimum Stay Required.